The following are links to Amazon, of products we use on our repairs. If you purchase any of these items, it may pay us an associates fee, thank you! These links won't appear if you use an Adblocker.


This is the Synthetic Grease we use to repair EM pinball Machines, used on stepper units and score reels.
Made In The USA.


20wt (not 10wt)
3-in-1 Oil, suitable for oiling a jukebox mechanism. Slightly thicker than the more common red label.
Made In The USA!


This is our favorite Playfield Wax. It's beautiful and doesn't dry white if your playfield has wear.
Made in The USA.


To protect touchups, we spot clearcoat with this.... DO NOT PAINT OVER WAX! It won't work!
Made In The USA.


This is Triple Thick, perfect to spray on damaged backglasses, it glues flaking paint back down.
Made in The USA.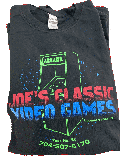 Our Shop T-Shirt, old school silkscreened right here in the Carolinas by hand, and with our design on the front. Several Sizes Available $25, email us to order!
A nice Canvas print to hang on the wall of our original shop around 2009 when we opened up! For sale @ Teespring.com!


An inexpensive Roll Pin Punch set to remove the pin that holds a Rock Ola jukebox mech together so you can clean it!
Made In The USA!


We use these quality nutdrivers on pinball machines, they have hollow shafts that slide down over the posts!
Made In the USA!


We like Fluke Multimeters because they stay accurate even if the battery is dying. This is a nice affordable one.
Made In China.


We recently lost Mr. Rich, but his book is invaluable, how to service the Mech in nearly every Seeburg.


Our favorite Soldering Iron! We like the temperature controlled ones because they stay consistent.
Made In Mexico.
A nice quality Mug with Our Play At Joes Logo On It, Start Your Morning With Style! $14.99 @ Teespring.com !
Old school Tee Shirt with the large logo on the back and the small one on the front. $24.99 @ Teespring.com!


Inexpensive Logic Probe Like The One We Use In Our Repair Videos, To Help You Find Missing Signals On PCB's !
Made In China.


A generic set of acrylic paints like we mix to do playfield touchups with! You must clearcoat over these after you touchup.
Made In The USA!


Ratcheting crimpers we use to repin connectors, such as on a Bally Pinball.
Made In China.
Terminals sold at TwistyWristArcade.com


Submerge something rusty in this for 24 hours, The rust will magically disappear. An Eco-Friendly, amazing product.
Made In The USA!


The World's BEST Solder Sucker. Silicone Tip That Doesn't Melt, Works Great, We Use It Daily.
Made In Japan!


The Perfect Tool To Lift IC Chips Out Of Sockets. Very Nice..
Made In Germany!


.17 Cal Bore Brushes Clean The Female Side Of EM Pinball Jones Plugs Very Well!
Made In The USA!


These Acrylic (water based) Paint Pens work well for Playfield Touchups, You must Clear Coat Afterwards!
Made In Japan!


Set of monitor adjustment tools for arcade monitors, used to change brightness, size, color adjustments, etc.
Made In China.


These Knife Cleaners Work Great On Rusty Pinball Parts, Jones Plugs, And Stepper Unit Rivets.
Made In Japan!
Our Shop T-Shirt, with our New logo small on the front and Large on the back! Several Colors and Sizes Available $24.99 @ Teespring.com!


Chapstick sized Glue Sticks, high quality, great for attaching loose labels in EM Pinball Machines!
Made In Germany!
A nice quality drinking glass with our logo and "Come On Now, People" on the back! $21.99 @ Teespring.com !


Not Arcade Related, But Great Weed Killer I Made A Video On!
Made In The USA.
CALL US ANYTIME! 704-507-6170 Joey Lyons